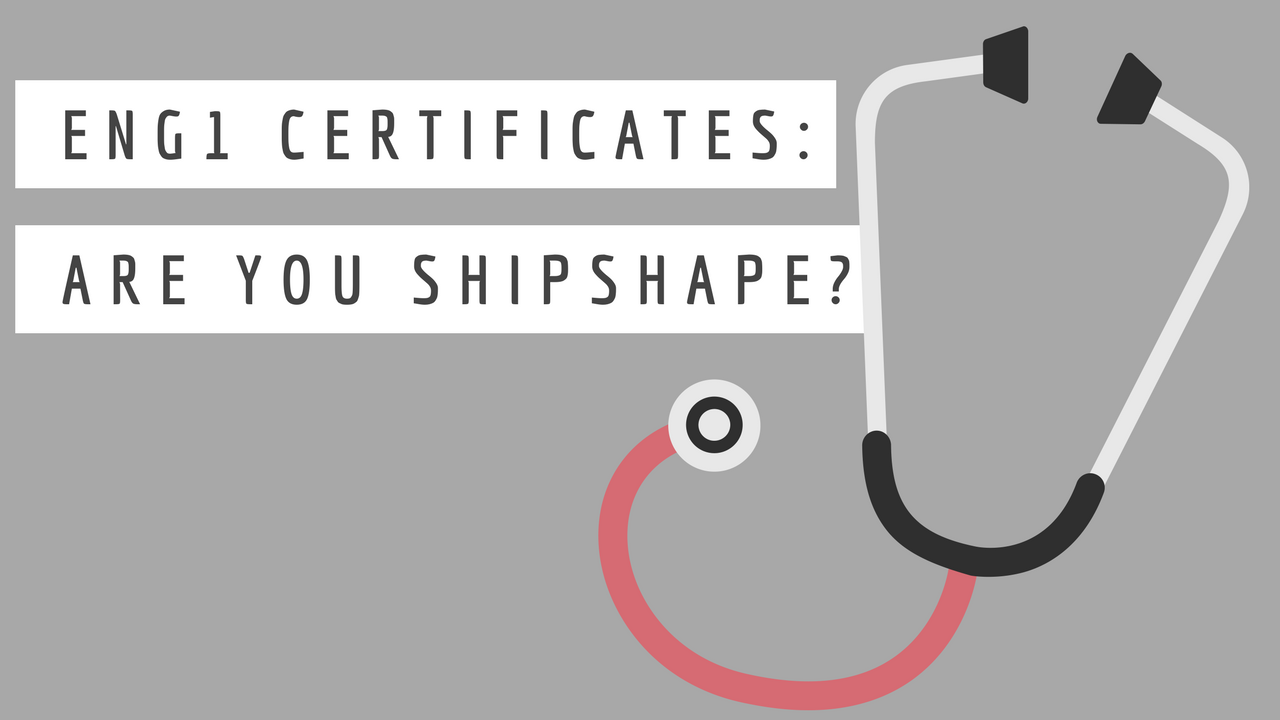 It's the time of year when a lot of aspiring superyacht crew are making their way to yachting hubs in the Mediterranean to find that elusive first job. In order to be allowed to work on a chartering or commercial superyacht, for safety reasons, all crewmembers are required to have certain basic qualifications or certificates, including the STCW Basic Safety Training and the ENG1 medical certificate.
As was reported a few months ago on SuperyachtNews.com, a number of crew members are being caught up in an unfortunate situation where they are heading to unapproved doctors and being issued with fake ENG1 certificates.
To help prevent superyacht crew from going to unapproved medical centres for their ENG1 certificates, Edge Yachts has decided to put the approved medical centre information here on our website.
It should also be noted that your ENG1 certificate should be issued on paper with blue ink and it will be heavily watermarked. If your ENG1 is provided in black and white ink, it could be a falsified copy, so beware that something is amiss and do not accept the document (source JPMA/SuperyachtNews.com).
You should expect to pay up to £80 or €100/$100 for your ENG1, if no further tests are required.
Some seafarer medical certificates from other countries are accepted as equivalents of an ENG 1 form. Find the list here.
If your current ENG1 certificate expires while you are on a voyage, it is permitted to work until the next port of call where you are able to replace the certificate or for up to three months from the date of expiry, according to the MCA's online advice.
Be aware that the list below is current as of 1 April 2017, and from time to time the list of approved medical centres can change, so visit the following monthly updated web pages for the most up-to-date information:
ENG1 APPROVED MEDICAL CENTRES & DOCTORS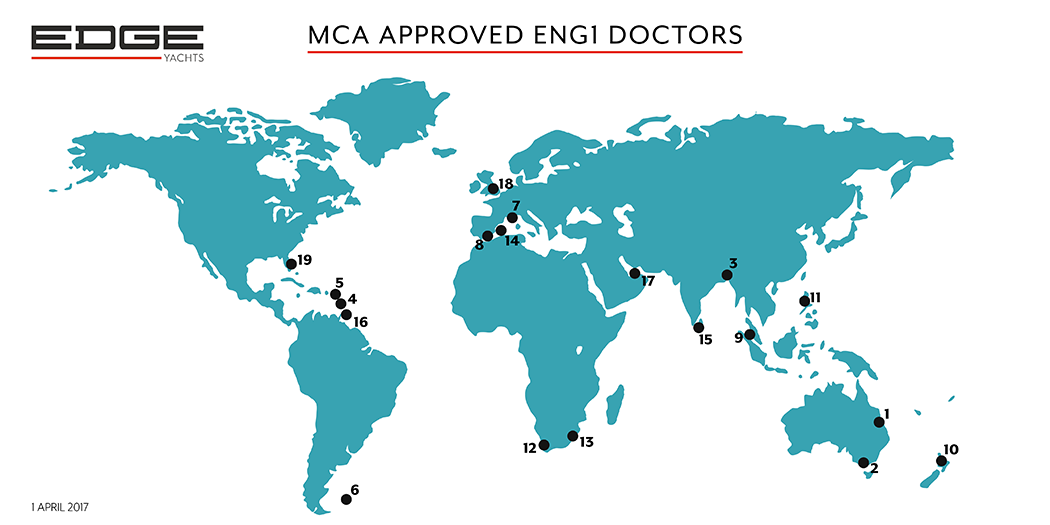 BRISBANE, AUSTRALIA
Dr J Yates, Anzac Square Medical Centre, 280 Ann Street, Brisbane, Queensland 4000. T: +61 07 322 91344
MELBOURNE, AUSTRALIA
Dr C Okraglik, Toorak Village Medical Centre, Level 1/459 Toorak Road, Toorak, Melbourne, Victoria 3207. T: +61 3982 68811
DHAKA, BANGLADESH
Dr A Wahab House-3, Road-12, Baridhara, Dhaka 1212. T: +88 02 984 7553 / +88 02 984 3439 / +88 02 985 5953
ST MICHAEL, BARBADOS
Dr S Reece, Diagnostic Clinic, Beckles Road, St Michael BB14 023. T: +1 246 426 5051/3
TORTOLA, BRITISH VIRGIN ISLANDS
Dr P Trotman-Hastings, BVIHSA Ambulatory Services, Road Town, Tortola VG 1110. T: +284 852 7550/7551
STANLEY, FALKLAND ISLANDS
Dr B Paver, Unit 2, Atlantic House, Fitzray Road, Stanley FIQQ 1ZZ. T: +50 02 1998/1993 | E: bpaver@horizon.co.fk
SOUTH OF FRANCE / MONACO
VALBONNE: Dr P Ireland / Dr C Besse, Le Forum, 1913 Route de Cannes, Valbonne 06560. T: +33 493 12 95 66
JUAN LES PINS: Dr B Lavagne, "Le Vendome" C, 4 Chemin du Tanit, Juan Les Pins, Antibes 06160. T: +33 493 67 03 07
MONACO: Dr C Trim-Cauchois, Yacht Club de Monaco, Espace Calypso Belle Classe Academy, Quai Louis II, Monte-Carlo 98000. T: +33 6 43 91 75 79 | E: drcauchois@gmail.com
GIBRALTAR
Dr J Shelley, College Clinic, PO Box 517, Regal House, Queensway, Gibraltar. T: +350 200 77777
KUALA LUMPUR, MALAYSIA
Dr E Yong Klinik Yong, 2nd Floor, Wisma Maran, 28 Medan Pasar, Kuala Lumpur 50050. T: +603 207 09742
AUCKLAND, NEW ZEALAND
Dr R Batt, 82b Gladstone Road, Parnell, Auckland. T: +64 9 377 4427
MANILA & MAKATI CITY, PHILIPPINES
Dr J Abesamis, Clinicomed, 2/F Ma. Daniel Building, 470 San Andreas Corner, M.H. Del Pilar Street, Malate, Manila 1004. T: +63 2 521 5499
Dr P De Guzman / Dr M Dimayuga-Mendoza, Physicians' Diagnostic Center, 533 UN Avenue, Cor. San Carlos Street, Ermita, Manila 1000. T: +63 2 521 4975
Dr P Gutay, 573 Maria Orosa, Corner Engracia Reyes Streets, Ermita, Manila 1000. T: +63 2 521 0024
Dr M Axibal, Angelus Medical Clinic, Inc Room 305, 3rd Floor Angelus Plaza, 104 VA Rufino St Legaspi Village, Makati City 1229. T: +63 2 815 1938
CAPE TOWN, SOUTH AFRICA
Dr A Stoner / Dr G Rosendorff, Netcare, Christiaan Barnard Medical Hospital Suite 1201, 12th Floor, Corner of DF Malan Street and Rue Batholemeu Dias Plain, Foreshore, Cape Town 8001. T: +27 21 424 2003
DURBAN, SOUTH AFRICA
Dr R Dungan, ENT Centre, 25 Glenwood Drive, Entabeni Hospital, Glenwood, Durban, 4001. T: +27 31 26 18 291
MALLORCA, SPAIN
Dr J Clark, Club de Mar Medical, Gabriel Roca 44/ Calle Ses Rafaletes, 1A Building Torremar/ Edif B, Planta PR, Local 2, IZQ 07015 Palma de Mallorca, Mallorca. T: +34 619 982 142 | E: info@clubdemarmedical.com
Dr A Bajpai, British Medical Centre, Calle Ses Planas, 7 Bajo, 07181 Palma Nova, Calvia, Mallorca. T: +34 971 683 511 | E: clinic@britishmedicalcentre.com
COLOMBO, SRI LANKA
Dr L Weerasena, LW Medicare Services (PVT) Ltd, 366 Galle Road, Colombo 03. T: +94 112 573523
TRINIDAD, TRINIDAD & TOBAGO
Dr S Millar, 66 Pembroke Street, Port of Spain, Trinidad, West Indies. T: +1 868 624 5762
DUBAI, UAE
Dr K Nicholl, Villa 610b, Jumeira Beach Road, PO Box 102835, Umm Suquiem, Dubai. T: +9714 3941000
UNITED KINGDOM – see below 19.
FORT LAUDERDALE, USA
Dr E Grenet, Health Medical Centers, 1489 SE 17 Suite 2, 2nd Floor Southport Shopping Center, Fort Lauderdale, Florida 33316. T: +1 954 525 7595 | W: www.healthmedcenter.net
UNITED KINGDOM: The following list is shortened to those locations closest to the most popular yacht training centres in the UK. A full list of UK-based doctors approved to issue ENG1 certificates can be found here.
HAMPSHIRE & ISLE OF WIGHT
Dr J Pierson Ocean Medical Services, Telephone House Surgery, 70-75 High street, Southampton SO14 2NW. T: +44 7788 376025
Dr B Ganesan / Dr S Robinson, Raymond Road Surgery, 34 Raymond Road, Shirley, Southampton SO15 5AL. T: +44 2380 227559 / +44 7968 040887
Dr R Gill/ Dr A Drake, Drayton Surgery, 280 Havant Road, Portsmouth PO6 1PA. T: +44 23 92370422
Dr J Hogan/ Dr A Scott-Brown, Lake Road Practice, Nutfield Place, Portsmouth PO1 4JT. T: +44 2392 009117
Dr S Giles, Shanklin Medical Centre, Carter Road, Isle of Wight PO37 7HR. T: +44 1983 862245
KENT
Dr I McKenzie, Pencester Surgery, 10 Pencester Road, Dover CT16 1BW. Tel: +44 1304 240553 / +44 7733001341
MERSEYSIDE
Dr T Fitzsimons, East Street Medical Services, Emergency Services Training Centre, 2 East Street, Wallasey, Wirral CH41 1BY. T: +44 151 230 8248